About PIRATA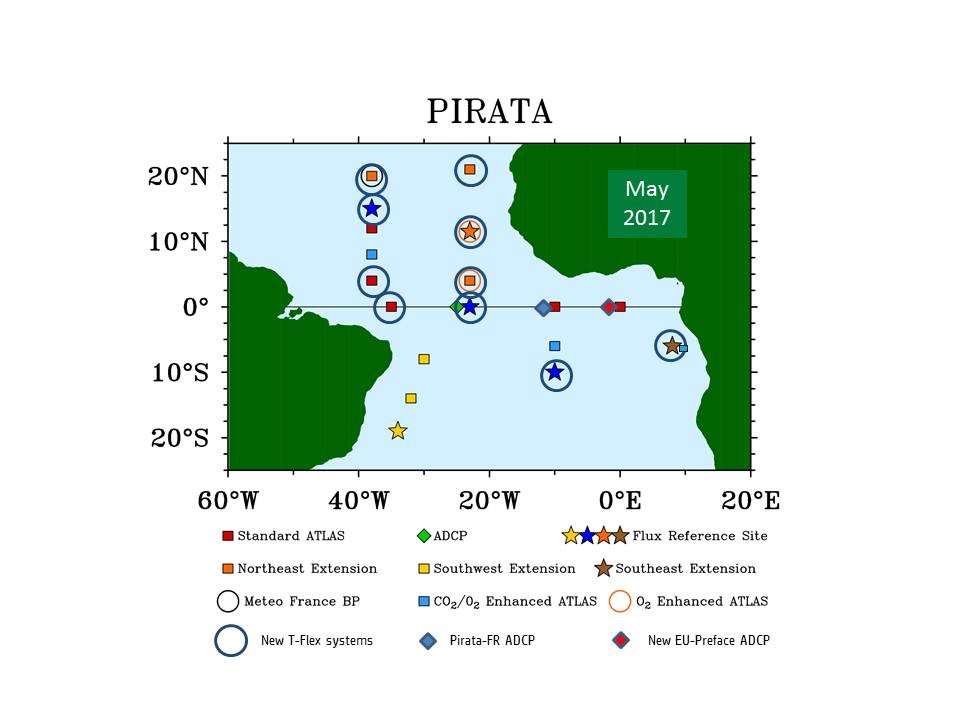 The PIRATA project is a joint effort between Brazil, France and the United States to collect oceanic and meteorological observations in the tropical Atlantic.
The experimental program PIRATA (initially « Pilot Research moored Array in the Tropical Atlantic » and named « Prediction and Research Moored Array in the Tropical Atlantic » from 2008) has been implemented in 1997 in the Tropical Atlantic Ocean (Servain et al. 1998). It has been launched in the framework of the international program CLIVAR (CLImatic VARiability and predictability) and implies scientific teams from three countries: France (IRD, in charge of coordination and oceanic cruises, Météo France, with contributions by IFREMER and CNRS/INSU), Brazil (DHN and INPE) and USA (NOAA/PMEL). Financial supports for the program are from the IRD, Météo France, and Observatoire Midi-Pyrénées/Université Paul Sabatier.
French PIRATA cruises DOI informations
From early 2016, informations about all PIRATA-FR cruises have been made available through a "DOI" (Digital Object Identifier) 10.18142/14 through the French Oceanographic Portail.
Each PIRATA-FR cruise has it own DOI number. Each DOI gives access to cruise information, data sets, publications, etc...
News !
PIRATA FR28 cruise in March-April 2018 aboard the R/V Thalassa
The last PIRATA cruise in March-April 2018 aboard the R/V Thalassa with 3 T-FLEX mooring that have been successully deployed in the French Pirata area.
PIRATA-FR28 Google Earth cruise kml file
New T-FLEX mooring : sensor specifications